Dear Friend of The Ripple Effect,
Due to many factors, and being that all of the members of The Ripple Effect are all dealing with something major, some joyful, such as babies being born, and some tragic, such as the death of a loved one or even individual health concerns which take priority over anything else, and for the sake of my own mental health, I've decided to let the band rest for awhile. Hopefully it'll be a short while, as I have so much fun doing it (when things go smooth anyway...) and so many people have asked me when we'll be doing it again.
There will be a party in Tyee City (Arcata Bottoms) on May 26th (for my birthday and 10th Anniversary of moving to Humboldt County) where we'll be getting together with some old members and new members as well. That will be more of an informal jam than a gig, but by the end of the summer, when Humboldt Brews re-opens after their remodel, and when HSU is back from summer break, we hope to be back in full swing again.
In the mean time, keep your ears peeled for
'Play Dead'
, Humboldt County's other premium Grateful Dead Tribute Band. I go to as many of their shows as I can, with my tie dyes, and usually sing a song or two with them, so I look forward to hanging out with all of you who come out to their shows, and to getting the Ripple Effect rolling again over the summer.
Ask the time baby I don't know
Come back later, gonna let it show.
I say row Jimmy row,
Gonna get there, I don't know,
Seems a common way to go,
Get down and row, row, row, row, row...
Steve
~~~~~~~~~~~~~~~~~~~~~~~~~~~~~~~~~~


If you'd like to be on our e-mail list
and receive reminders of upcoming shows
just
click here
to send Steve a message
and in the subject line, type
'Ripple Effect Info'



To see a photo album featuring
the history of the band,
flyers from past gigs,
and other related pictures,
visit www.tiedyesteve.net

A Very Special Thanks
Goes Out To Our Friend
Walter Graves
Who, Up Until Spring Of 2005,
Had Been Loaning Us The Equipment
Necessary To Put On A Quality Show.
However, Last Summer, We Picked Up
A Brand New Sound System
From Our Friends At Arcata Music.



I'd also like to thank the many
Dead Tribute Bands
that I've hung out with
over the years, most notably,
Crazyfingers in South Florida,
Cubensis In L.A., and
The Electric Waste Band in San Diego,
For letting me get up
and sing an occasional song,
and for suggesting that I
learn to play guitar,
so I wouldn't have to wait
for a band to sing with.


Who the heck is
'Tie Dye Steve' anyway?
The Ripple Effect MySpace Page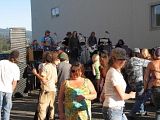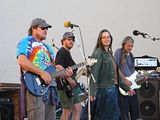 We Hope You'll Enjoy These Photos
(Photos Courtesy of Bob Doran)
---
Contact | Gigs | Home |
Humboldtmusic.com